/* * -- * The page title * -- */ ?>
Race to Tombeboeuf
/* * -- * The page thumbnail * -- * */ ?>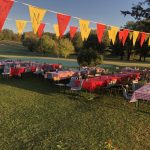 Saturday 11 July 2020
Association Sportive du Golf de Barthe
« Race to Tombeboeuf » 2020
Series – a series of "classement" events with individual prizes for each event and overall prizes for the cumulative result based on the best 3 of 6 possible scores
Dates – Saturday 11 and Sunday 12 July
Saturday 25 and Sunday 26 July
Saturday 15 and Sunday 16 August
Saturday 22 and Sunday 23 August
Saturday 12 and Sunday 13 September
Saturday 26 and Sunday 27 September
Format – 18 hole stableford
Eligibility – Golf de Barthe members (annual subscription or carnet holders) with a current FFG index or a current club handicap
Competition rules Preferred lies on fairways only / putt out (no gimmies) / gross score carded, with a maximum of 4 shots over par
Competitions Debutants (Ladies & Men) – handicap 44.5 – 54.0
Ladies – handicap 0.0 – 44.4
Men group A – handicap 0.0 – 18.4
Men Group B – handicap 18.5 – 44.4
Prizes – based on stableford points
– Intermediate prizes for each round of the competition will be awarded to the best player in each group.
– Overall prizes at conclusion of competition (minimum of 3 qualifying rounds will be awarded to the player in each of the playing groups with the highest aggregate of their three best scores
– winner of the "Race to Tombeboeuf" prize will be the player from all groups with the best aggregate total of points from the three best rounds
Handicaps will be updated by the results recorded in each round of the competition.
Where a player "moves" from one handicap group to another as a result of handicap update, the group in which he /she is included for the overall Race to Tombeboeuf prize will be determined from the group in which the majority of his / her three best scores were recorded
Inscription for each event in the series at least 3 days before the competition date.
Entry Fee – AS member €5 per round / Non AS members €10 per round, to be paid at the bar before starting a round
Tee Times – groups of 3 players, starting times to be booked in advance (as now)
Tees – Men play off yellow tees. Ladies play off red tees.
Score cards – The club score cards will be used.
The gross score on each hole is all that should be recorded.
Each player's card must be marked by one of their playing partners and signed by both the marker and the player.
Completed signed score cards should be placed in the box in the club.
The FFG system will be used to apply each player's competition handicap (individual handicap x slope adjustment) and thus calculate their result.