/* * -- * The page title * -- */ ?>
Summer Knock Out Competitions
/* * -- * The page thumbnail * -- * */ ?>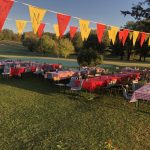 Saturday 11 July 2020
Association Sportive du Golf de Barthe
Eligibilty – Competitions open to members / carnet holders of Golf De Barthe.
Format – Singles competitions = 18 hole match play. Pairs competitions = better ball 18 hole matchplay
Competitions – Mens Singles
Ladies singles
Pairs
Inscription – by Saturday 11 July
Draw – to be posted and circulated by Monday 13 July
Entry Fee – €5 per player to be paid prior to first match in Competition (separate fee for singles and pairs competitions). The entry fee should be placed in the box on the bar together with the player's name being added to the list on the box
Tees – The matches will be played from the yellow (for gentlemen) and red (for ladies) tee placings. Ladies with a handicap of less than 9.0 will play from the yellow tees. Matches should start from the first tee.
Handicaps – Competitor's handicap will be –
Their current FFG handicap when each match is played. (Current means that handicap has been updated at least twice in the last twelve months.)
Where no current FFG handicap is available, their club handicap. This handicap can be subject to review and update during the course of the competition.
In each match, strokes will be taken from the player with the lowest handicap in the match.
In the Singles Knock-Out, the player with the highest handicap will receive the difference between the two handicaps.
In the Doubles Knock-Out, the other three players will receive 90% of the difference between their handicap and that of the lowest handicapped player.
Scoring – Players receiving strokes will take them on the holes where the HCP indicator on the course card is the same as, or less than the number of strokes that they are receiving.
Matches which are all square after 18 holes should continue on from the first tee until a hole is won.
Match results must be entered on the draw sheet as soon as the match has finished.
Programme – Prelim Round – to be completed by 31 July
Round of 32 – to be completed by 29 August
Round of 16 – to be completed by 15 September
Quarter finals – to be completed by 30 September
Semi-finals – to be completed by 16 October
Finals – to be completed by 31 October
The responsibility for arranging matches falls equally of all players. Telephone numbers or e-mail addresses can be obtained from Sam Robinson
The draw shows a play by date for each round. The pairs involved in matches not played by the date given, will be eliminated from the competition. In exceptional circumstances, that have been agreed by the tournament director (Mike Robinson) prior to the play by date, a small extension to the date may be granted.