/* * -- * The page title * -- */ ?>
Under 17 Children's Competition Coupe Promotionnelle
/* * -- * The page thumbnail * -- * */ ?>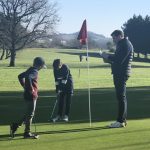 Sunday 29 March 2020
Players (boys and girls) must:
Have a current FFG license registered at a club in the Lot et Garonne
Have a valid medical certificate registered with their club
Meet the age requirements and corresponding index or flag level.
Not be eligible for the Inter departmental and regional championships
Registration is free.
Inscriptions must be made through the club to the Lot et Garonne Committee by email (cdgolf47@gmail.com) before SUNDAY, MARCH 15 midnight, with names, categories, (for U12 specify 18 holes stableford or Drapeau) and player's index.