/* * -- * The page title * -- */ ?>
Help us to avoid Slow Play
/* * -- * The page thumbnail * -- * */ ?>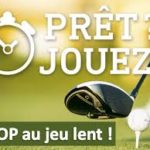 4th May 2021
HELP US AVOID SLOW PLAY @ Golf de Barthe
PLEASE always invite quicker golfers behind you to pass.
Choose your club and get ready for your tee shot whilst approaching the tee box.
Focus on your next shot and club selection whilst approaching your ball.
First in the group who is ready to play is permitted to do so. Golfers are now only allowed 3 MINUTES to search for lost balls.
Use a reasonable pre-shot routine — one practice swing, commit, set up, and hit.
Anticipate! Take the correct club to your ball — the one you think is for the correct yardage.
When you approach the green, get your putter ready, anticipate your line and stroke in advance.
MANAGE YOUR CART Drop your cart mate at their ball and drive to your ball OR leave the cart, take a few clubs and walk to your ball.
DON'T WAIT to be driven or picked up. Return your clubs to your bag when you reach your next stop. Park your cart on the way to the next hole. Mark the scorecard after you have moved to the next tee box. Plan club selections so that you don't need to return to the cart before taking your shot.
BE AWARE follow the flight of each other's shots, assist to locate their ball if required. Take a provisional shot when your ball might be lost. Pick up when you are out of a hole (4-ball or match play).
BE HELPFUL AND PATIENT
Green fees are an essential element of our course revenue. They assist us to provide our members with a better-quality course, on this basis we request that our members be patient during busy times. In the same token, we request that visitors to our course respect members and quicker players by permitting them to pass.
IT IS YOUR RESPONSIBILITY to keep up with the foursome in front of you.
Good pace of play is a shared responsibility.
A final reminder, please repair all pitch marks on the greens and divots on the fairways.
ENJOY YOUR ROUND!